The Bloom Stage & Storytelling
The Bloom Stage and Storytelling
Story is an important tradition that connects our communities, holds a mirror up to life lessons and helps chart where we are going. In our current golden age of storytelling, people are becoming more aware of how sharing their personal narratives function as a pathway to physically healing experiences and to achieving their goals. Stories elicit powerful emotional responses and are useful tools. Your story is your power!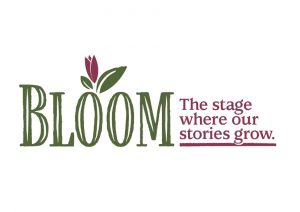 The Bloom Stage offers quarterly events that bring a blend of storytelling, poetry, music, and art to the Murfreesboro stage. The series is produced by storyteller and personal coach Kara J. Kemp with assistance from poet and writer Kory Wells. This series offers new and veteran voices a platform where their stories and poetry can grow! Performances presented include open mic slots along with featured tellers who have an option to work with a coach to be performance-ready. Each event presents a broad theme for artists to build upon, such as "Defibrillator" for a February Valentine's show, "Cornbread and Casseroles" for Mother's Day and "The Dog Days" for an August show on furry friends, summer's end and school's beginning. Live musicians weave the stories together throughout the series as well as visual artists on exhibit.
Don't shrink. Bloom.
THE BLOOM STAGE SQUARE PEG, ROUND HOLE POSTPONED…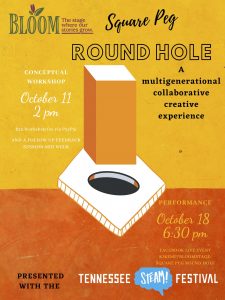 The Bloom Stage will offer a multi-generational, collaborative workshop in January 2021 that will culminate in a virtual live-stream performance for ages 13- 103. Kara Kemp and poet and writer, Kory Wells, will walk participants through creating storytelling, poetry, and spoken word based on the theme of "Square Peg, Round Hole". Instructional focus is on stories and poems, yet all artistic genres are welcome and will be woven together for a performance also slated fro January 2021 via Facebook.
SCHEDULE:  Workshop, optional feedback session, and Performance all in January 2021
COST: Workshop fee: $25; Pre-registration and payment is required below.
Make your $25 workshop payment through PayPal.
Click on any poster for a link to a past production.
"True belonging requires meeting real people in real time in a real space. Story helps you find your real." – Kara J. Kemp
Kara's storytelling performances have also been crafted for energetic events such as United We Style benefiting United Way, The Ghostly Gathering in historic Rugby, Tennessee, The Moth Nashville and custom story workshops. Kittens on the Keys is a full-length production that resonates with audiences as "a unique mix….at once sophisticated and homespun" which explores the complexities and charm of growing up Southern and what we do with our past in order to shape our futures. Kara is available for customizing workshops or private coaching sessions to help tap into real power for simply sharing, performance or corporate presentations.