The Bloom Stage & Storytelling
The Bloom Stage and Storytelling
Story is an important tradition that connects our communities, holds a mirror up to life lessons and helps chart where we are going. In our current golden age of storytelling, people are becoming more aware of how sharing their personal narratives function as a pathway to physically healing experiences and to achieving their goals. Stories elicit powerful emotional responses and are useful tools. Your story is your power!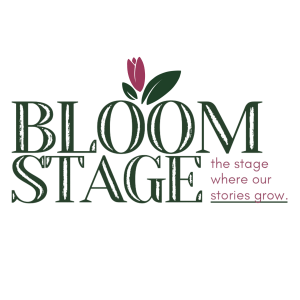 The Bloom Stage offers quarterly events that bring a blend of storytelling, poetry, music, and art to the Murfreesboro stage. The series is produced by storyteller and personal coach Kara J. Kemp with assistance from poet and writer Kory Wells. This series celebrates the ability of art to honor both the diversity and commonality of human experience, and to satisfy a vital human need for connection. It seeks to present established and emerging storytellers, poets, performers and artists and to encourage unity among communities whose stories often go unheard. Performances presented have an option to work with a coach to be performance-ready. Each event presents a broad theme for artists to build upon, such as "Defibrillator" for a February Valentine's show, "Cornbread and Casseroles" for Mother's Day and "The Dog Days" for an August show on furry friends, summer's end and school's beginning. Live musicians weave the stories together throughout the series as well as visual artists on exhibit.
Don't shrink. Bloom.
Next up on stage!  The Bloom Stage and Poetry in the Boro present Wrecked: From Crashed Cars & Crushed Hearts to Life's Happy Accidents (5th year anniversary)

There will also be ONE OPEN MIC segment in the show, so prepare a maximum 4-minute piece to share on the theme and email poetryintheboro@gmail.com to put your name in the hat for a slot.
Admission for this show is a suggested $10 donation.
TELL YOUR STORY ON THE BLOOM STAGE
Have a story to tell? The Bloom Stage is always in search of new storytellers. No experience required, just a great story and a willingness to collaborate.
SPONSOR THE BLOOM STAGE
Supporting the arts is the noblest thing you can do to keep humanity thriving. -Anonymous We're always looking for support for The Bloom Stage to keep it free & open to the public. If you'd like to be a sponsor, let us know.
Click on any poster for a link to a past production.
"True belonging requires meeting real people in real time in a real space. Story helps you find your real." – Kara J. Kemp
Kara's storytelling performances have also been crafted for energetic events such as United We Style benefiting United Way, The Ghostly Gathering in historic Rugby, Tennessee, The Moth Nashville and custom story workshops. Kittens on the Keys is a full-length production that resonates with audiences as "a unique mix….at once sophisticated and homespun" which explores the complexities and charm of growing up Southern and what we do with our past in order to shape our futures. Kara is available for customizing workshops or private coaching sessions to help tap into real power for simply sharing, performance or corporate presentations.