The Bloom Stage & Storytelling
The Bloom Stage and Storytelling
Story is an important tradition that connects our communities, holds a mirror up to life lessons and helps chart where we are going. In our current golden age of storytelling, people are becoming more aware of how sharing their personal narratives function as a pathway to physically healing experiences and to achieving their goals. Stories elicit powerful emotional responses and are useful tools. Your story is your power!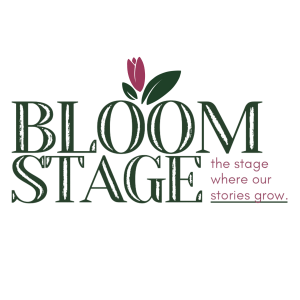 The Bloom Stage offers quarterly events that bring a blend of storytelling, poetry, music, and art to the Murfreesboro stage. The series is produced by storyteller and personal coach Kara J. Kemp with assistance from poet and writer Kory Wells. This series celebrates the ability of art to honor both the diversity and commonality of human experience, and to satisfy a vital human need for connection. It seeks to present established and emerging storytellers, poets, performers and artists and to encourage unity among communities whose stories often go unheard. Performances presented have an option to work with a coach to be performance-ready. Each event presents a broad theme for artists to build upon, such as "Defibrillator" for a February Valentine's show, "Cornbread and Casseroles" for Mother's Day and "The Dog Days" for an August show on furry friends, summer's end and school's beginning. Live musicians weave the stories together throughout the series as well as visual artists on exhibit.
Don't shrink. Bloom.
Next up on stage!  The Bloom Stage and Poetry in the Boro present Your Attention, Please

The theme of our May 5, 2022 Bloom Stage at the Walnut House in downtown historic Murfreesboro is Your Attention, Please: Looking closer, looking again, looking out, looking in, and the power of noticing and being noticed.
From the buzzing and blooming of spring to the idea of attention being "the beginning of devotion" (to quote poet Mary Oliver), we'll have visual artists, dancers, poets, storytellers, and musician Tom Seymour inspiring us to sit up (or stand!) and take better notice of our own lives and all life around us.
Your Attention Please is a collaboration with Poetry in the Boro and the Green is the New Blue workshop series coordinated by MTSU Write. Admission is free, thanks to an Arts Build Communities (ABC) grant funded in part by the Tennessee Arts Commission and the Greater Nashville Regional Council. Several of our features for Bloom Stage: Your Attention, Please are workshop leaders from Green Is the New Blue, a project that brings together community teaching artists, MTSU professors, and naturalists, to guide participants in creatively connecting with each other, themselves, and the natural world. Learn more about the project at
https://mtsunews.com/green-new-blue-arts-fall21/
Approximately 6 open mic slots for poets and storytellers will be available during this show. Time limit is 4 minutes; contact us for more information.
Because we're ready for your undivided attention, we won't be live streaming this show. Join us in person! (But, if you really cannot, we will be recording it for later viewing.)
Other "look" phrases:
look before you leap
looking back
looking elsewhere
looking forward
look fantastic
look here
look how
look up
look what you've done
look in the mirror
look to the stars
Storytelling coaching inquiries and payments may be made below:

Click on any poster for a link to a past production.

"True belonging requires meeting real people in real time in a real space. Story helps you find your real." – Kara J. Kemp
Kara's storytelling performances have also been crafted for energetic events such as United We Style benefiting United Way, The Ghostly Gathering in historic Rugby, Tennessee, The Moth Nashville and custom story workshops. Kittens on the Keys is a full-length production that resonates with audiences as "a unique mix….at once sophisticated and homespun" which explores the complexities and charm of growing up Southern and what we do with our past in order to shape our futures. Kara is available for customizing workshops or private coaching sessions to help tap into real power for simply sharing, performance or corporate presentations.